Dizzy Donmez

Chicago, Illinois, USA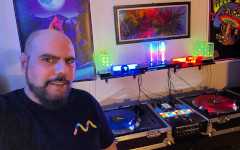 Dizzy grew up in Chicago listening to house music. At the suggestion of one of his cousins, he set out on his quest to become a DJ. It was the mid-1990s and at only 12 years old, he didn't actually know what a DJ really did of the type of equipment needed. By the time he was 13 he had that figured out and got a start-up DJ set basic turntables and a mixer.
At 17 years old Dizzy moved to Phoenix Arizona and found a whole new world of DJing. Here he began mixing hip-hop, R&B, top 40, and everything else mainstream that the clubs wanted to be played. He had several club residencies all around Phoenix. It was around this time he began the Friday Night MIXX Party radio show on Party107's sister station MIXX 94.1.
In 2010 Dizzy moved back to Chicago to pursue some other ventures. Now Dizzy is back in the mix with this faithful Beagle Charlie by his side to bring you everything from classic house, trance, and progressive, to brand new dance tracks he's hand-picked from artists around the world.
Recent Sets
More Sets By Dizzy Donmez