MACKerMD

Netherlands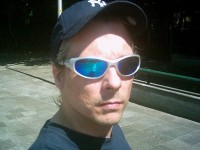 MACKerMD is a producer, musician, dj, radio-host from The Netherlands.
He's been making music since he was 7 and still loves all kinds of genres, from chillout to ultimate hardstuffs. From the late 70s, he was fascinated by the music that was created by artists such as Jean-Michel Jarre, Vangelis, Kitaro, Kraftwerk. Then he got his first little keyboard. Rather than the standard 'kiddiemelodies' his first replayed tune was 'In The Mood', simply because it had a lot of tempo and variation in the melody.
During the 80's he got involved in the Italo-music, Disco-Remixes from 70's hits and he started to collect his first 12" vinyls. Next to all the genres came the fenomena of Original Soundtrack Music from eg. John Williams. In the late 80's he was part of the KTC (KeyTown Crew). A local hip-hop group that created funky tracks with nononsense lyrics. After a few ridiculed attempts to write lyrics himself, he kept it in making the backing-tracks with music and samples. While performing always played live instruments along.
And then... ''JACK came along'' .. it brought acid-house and the first house-like sounds from the 80's slowly into the early 90's and the whole scene exploded with experimental tunes.
During this period artists like Joey Beltram, CJ Bolland and a lot of artists from Detroit were standard-gear in MACKerMD's dj-bag and played on a regular basis on various locations throughout the country. He insisted not to play on big venues, but kept it as underground as the music from that period was intended and was respected for that. Then came the time to do some of his own parties, coorporating with a few other underground party organizations, where artists such as RED (later collaborating with Armin van Buuren) and others started to develop and release their own material.
Recent Sets
More Sets By MACKerMD