The Vanishing Point 080 - Kaenow, Soliquid, Breakfast, Haris C, Digitalis, and more (07-02-07)!
Posted Sun, Jul 01, 2007 1:06 PM EDT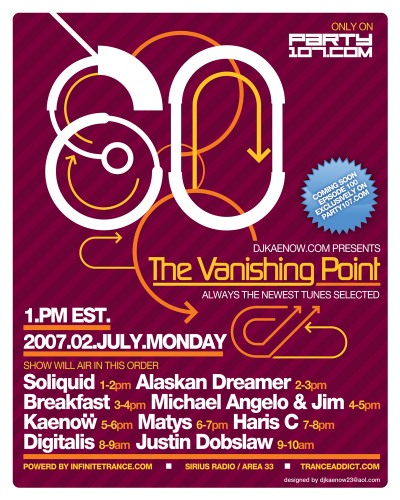 Tune in this Monday for a special extended 80th episode of The Vanishing Point with DJ Kaenow and guests. This event will feature sets from:
Soliquid
Alaskan Dreamer
Breakfast
Michael Angelo and Jim
Kaenow
Matys
Haris C
Digitalis
Justin Dobslaw
It all starts Monday at 1:00 PM Eastern / 10:00 AM Pacific / 19:00 CET, only on Party107!