Peak Control 100 - John Avenida, Jonas Steur, Sonicvibe, Leon Boiler, and more (07-14-07)!
Posted Thu, Jul 12, 2007 7:20 PM EDT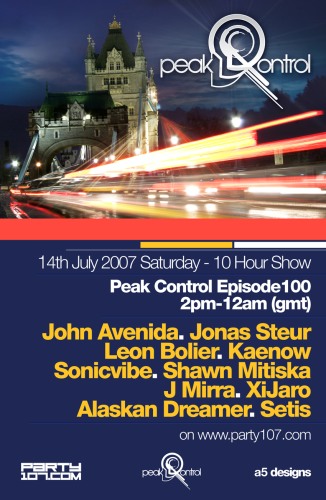 Tune in this Saturday for a special 10 hour show celebrating 100 episodes of Peak Control with John Avenida! The full lineup for this event includes:
John Avenida
Jonas Steur
Leon Boiler
Kaenow
Sonicvibe
Shawn Mitiska
J Mirra
XiJaro
Alaskan Dreamer
Setis
It all starts Saturday (July 14) at 9:00 AM Eastern / 6:00 AM Pacific / 2 PM UK / 15:00 CET!
Also catch our normal Saturday programming at different times this week, including Red Division with Redstar at 5:00 AM Eastern, Arctic Sessions with Alutech after the Peak Control event, and DJ Ampz's Amplified Radio 350th show from the Purple Room following Alutech.