Universal Soundz 100 - 23+ Hours of sets from BiG MiKE, Sean Tyas, Bart Claessen, Sonicvibe, Re:Locate, and many more (09-18-07)!
Posted Mon, Sep 17, 2007 4:17 PM EDT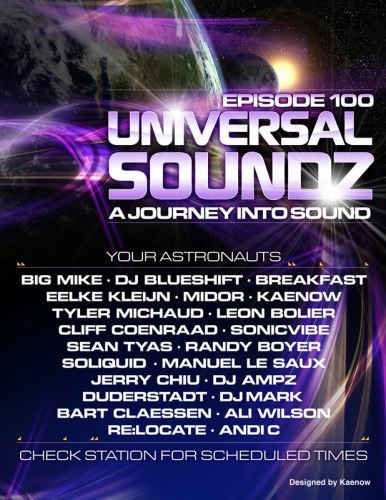 Tune in starting Tuesday, September 18 at 7:00 AM Eastern / 4:00 AM Pacific / 13:00 CET for a very special 23+ hour episode of Universal Soundz! This special episode marks 100 great episodes of the show and features tons of great sets by top DJs and producers from all over the world. The full lineup includes:
Tuesday, September 18:
7:00 AM - Randy Boyer
8:00 AM - DJ Ampz
9:00 AM - Eelke Kleijn
10:00 AM - M.I.D.O.R.
11:00 AM - Duderstadt
12:00 PM - BiG MiKE
2:00 PM - Manuel Le Saux
3:00 PM - Breakfast
4:00 PM - Ali Wilson
5:00 PM - Bart Claessen
6:00 PM - Re:Locate
7:00 PM - Sean Tyas
8:00 PM - Sonicvibe
9:00 PM - Jerry Chiu
10:00 PM - Soliquid
11:00 PM - Blueshift
Wednesday, September 19:
12:00 AM - Tyler Michaud
1:00 AM - Cliff Coenraad
2:00 AM - Kaenow
3:00 AM - Leon Boiler
4:00 AM - DJ Mark
5:00 AM - Andi C
Above times Eastern Daylight Time (GMT -4). Click each time to see it in your time zone. Times may vary by a few minutes due to set lengths being over or under 60 minutes.
We'd love to hear from you during the show. Check out our live IRC chat at irc.mixxnet.net/#party107 or use our Java or fully web-based IRC clients.
For full tracklists, visit the Universal Soundz 100 thread on the forums.
Don't miss it!
As a programming note, our normal Tuesday shows including "Trance Around The World" with Above & Beyond and "Frozen Spirits" with Gabe de Wielen will be heard on different days and times this week. Stay tuned for details.
PROGRAMMING UPDATE: Tuesday's episode of "Trance Around The World" with Above & Beyond is tentatively scheduled for 2-4 PM Eastern on Wednesday depending on our existing show "Moody Melodies".