Sunset Excitement 100 XXXXXXXXXXXXXXXXXL - Two Year Anniversary (10-14-07)
Posted Tue, Oct 09, 2007 2:51 AM EDT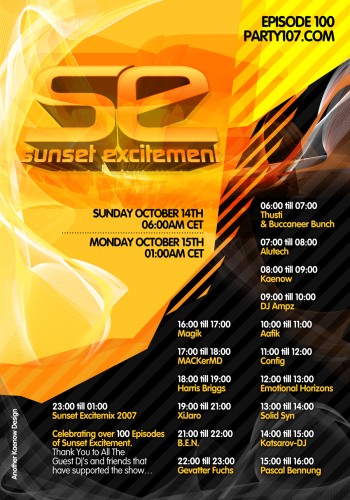 Tune in on October 14 for a very special 19 hour 100th episode/two year anniversary edition of Sunset Excitement with XiJaro and guests! The full lineup includes:
Aafik
Alutech
B.E.N.
Config
DJ Ampz
DJ Kaenow
Emotional Horizons
Gevatter Fuchs
Harris B
Katsarov-DJ
MACKerMD
Magik
Pascal Bennung
Solid Syn
Thusti & Buccaneer Bunch
XiJaro 2 hour regular set
XiJaro Sunset Excitemix 2007 (Megamix)
It all starts at 12:00 AM (Midnight) Eastern / 9:00 PM Pacific (Oct 13) / 6:00 AM CET on October 14th!
Programming Note: Catch Sunday afternoon's regular show "Aura Sessions" with DJ Redstar at a special time this week on Monday (Oct 15) from 1-4 PM Eastern!