The Vanishing Point 100 - 19+ Hours of Sets from Kaenow, Wippenberg, Sebastian Brandt, Cosmic Gate, Scot Project, Mark Sherry, Suzy Solar, and more (11-19-07)!
Posted Sun, Nov 18, 2007 1:56 PM EST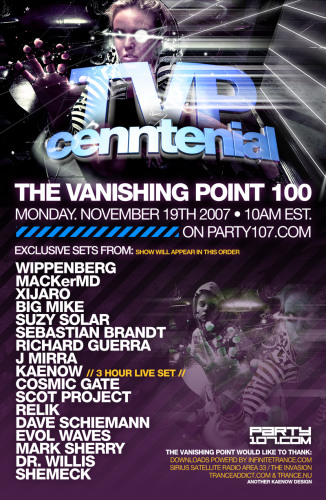 Tune in Monday, November 19 starting at 10:00 AM Eastern / 7:00 AM Pacific / 16:00 CET for a special event celebrating 100 episodes of The Vanishing Point hosted by DJ Kaenow! This special "Centennial" episode will feature exclusive sets from:
Wippenberg
MACKerMD
XiJaro
BiG MiKE
Suzy Solar
Sebastian Brandt
Richard Guerra
J Mirra
Kaenow (Three hour LIVE set from Miami)
Cosmic Gate
Scot Project
Relik
Dave Schiemann
Evol Waves
Mark Sherry
Dr. Willis
Shemeck
Sets will appear in the above order starting at 10 AM Eastern!
We'd love to hear from you during the show. Check out our live IRC chat at irc.mixxnet.net/#party107 or use our Java or fully web-based IRC clients.