Party107 Welcomes "Destination Bulgaria" with Katsarov-DJ - Debut Episode With Matt Darey
Posted Wed, Jan 23, 2008 2:55 PM EST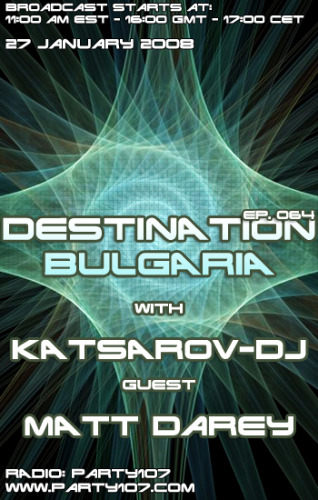 Party107 welcomes weekly show Destination Bulgaria with Katsarov-DJ to our lineup!
You already know Katsarov-DJ from his twice monthly solo show "Sky Sessions", but now he's bringing his weekly show to Party107 Sundays. Destination Bulgaria is a two hour show featuring Katsarov-DJ in the mix and also a guest set from top DJs like Sean Tyas, Ronski Speed, Perry O'Neil, Leon Boiler, Niklas Harding, Mike Koglin, Mat Zo, Andrew Bennett, and more.
Catch the debut episode of Destination Bulgaria on Party107 this Sunday at 11:00 AM Eastern / 8:00 AM Pacific / 17:00 CET / 6:00 PM EET with a special guest mix from Matt Darey!
Also catch Obligation with Mark Youssef on the first Sunday of every month at a brand new time; 9:00 AM Eastern / 6:00 AM Pacific / 15:00 CET.