"The Perceptive Recordings Show" Debut - September 4, 2008
Posted Tue, Sep 02, 2008 3:24 AM PDT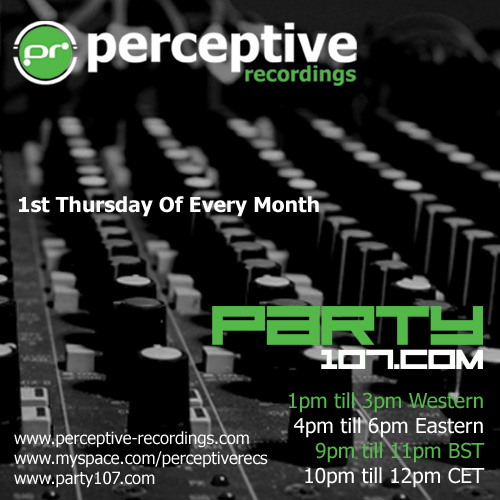 Party107 is pleased to welcome The Perceptive Recordings Show to our Thursday lineup!
Perceptive Recordings is the brainchild of UK based DJ/Producer duo Perceptive Nature. Luke Jennings and Nick Miller met at college in 1997 through their passion for Electronic Dance Music. In 2005 they teamed up and created "Perceptive Nature" as they found themselves DJing back to back on a regular occasion. Perceptive Recordings has brought you several massive tracks such as "Nyctalopia" and "Time To Rest" by Andy Blueman, "Rush" by Redstar, and Ehren Stowers' "Icarus", just to name a few.
The Perceptive Recordings Show is a two hour show on the first Thursday of every month featuring Perceptive Nature in the mix with new and exclusive tracks as well as forthcoming Perceptive releases.
Catch the debut episode this Thursday, September 4 at 4:00 PM Eastern / 1:00 PM Pacific / 22:00 CET / 21:00 UK!