"Synful Vibes" Debut on Party107 with Solid Syn (05-10-09)
Posted Sat, May 09, 2009 3:04 PM EDT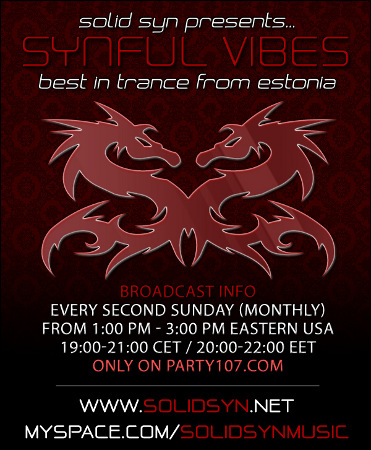 Party107 welcomes DJ duo Solid Syn to the netwaves with their monthly show "Synful Vibes"!
Solid Syn are SolidBase and Synerje, two young DJ's who met four years ago on a public forum. Both of them were into trance music and mixing, and about two years ago they decided to start mixing together. A project called "Solid Syn" was then born. "Synful Vibes" is a monthly two hour show featuring the best in trance from Estonia.
Catch the debut of the show on Party107 this Sunday, May 10 at 1:00 PM Eastern / 10:00 AM Pacific / 19:00 CET / 6:00 PM UK!
Also tune in at 9:00 AM Eastern before the Synful Vibes debut for a special four hour edition of Global Perception with Katsarov, Ron van den Beuken, Kenneth Thomas, and Kaeno.