Behind The Lyric 013 with Marcie (06-30-09)
Posted Wed, Jun 24, 2009 3:47 PM EDT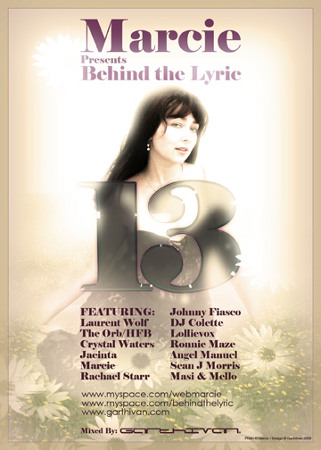 Tune in this coming Tuesday, June 30 for a brand new episode of Behind The Lyric presented by Marcie! Behind The Lyric is a show that features interviews with leading vocalists, producers, and DJs in the electronic music scene to tell the story behind the lyrics in electronic music.
Episode 013 will feature interviews from Rachel Starr, Laurent Wolf, The Orb/HFB, Crystal Waters, Jacinta, Marcie, Johnny Fiasco, DJ Colette, Lollievox, Ronnie Maze, Angel Manuel, Sean J Morris, and Masi & Mello.
The show starts Tuesday at 7:00 PM Eastern / 4:00 PM Pacific / 01:00 CET (Wed) / Midnight UK (Wed).