Aura Sessions 150 with Redstar, Bissen, Corderoy, Sunny Lax, and Ant Attwood (2010-03-28)
Posted Sat, Mar 27, 2010 10:44 AM PDT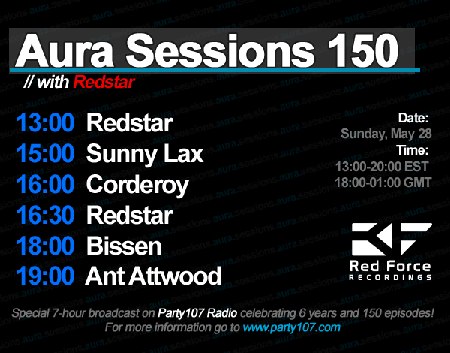 Aura Sessions will be celebrating 150 episodes and 6 years on the air with a special 7 hour broadcast this Sunday on Party107.
Over the years, Aura has welcomed guests such as Sean Tyas, Ronski Speed, John Askew, Super8 & Tab, Orkidea, Alt+F4, Duderstadt, Stoneface & Terminal, and Mike Shiver. For episode 150, Redstar welcomes back friends of Red Force Recordings and Aura Sessions Bissen, Corderoy, Sunny Lax, and Ant Attwood. Redstar will also drop three hours worth of the hottest new tunes, special Red Force exclusives, and some Aura favorites from over the years.
Catch the special 150th episode of Aura Sessions this Sunday at 1:00 PM EDT / 19:00 CET / 6:00 PM UK!