TranceSound and Jump4Trance present Barry Connell Tribute (2010-05-29)
Posted Sat, May 22, 2010 8:53 PM EDT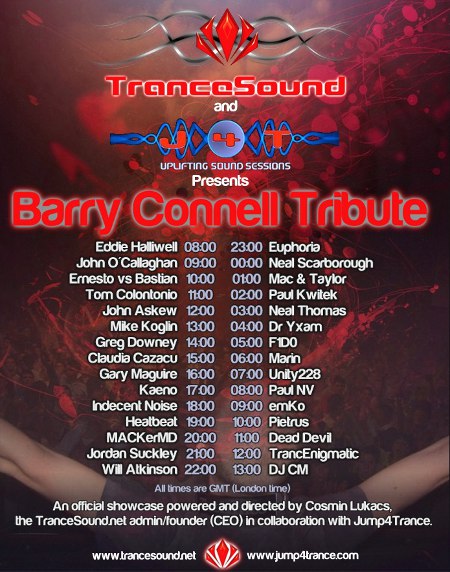 TranceSound and Jump4Trance present a massive 30 hour event to honor the memory of one of the most active DJs, producers, and remixers within the EDM spectrum, Barry Connell.
The lineup for this event includes personal friends of Barry as well as other DJs who loved and respected his music and style. Just some of the DJs playing on this special tribute event include names like John O'Callaghan, John Askew, Eddie Halliwell, Ernesto vs Bastian, Greg Downey, Neal Scarborough, Tom Colontonio, Gary Maguire, Mike Koglin, Claudia Cazacu, Heatbeat, Mac & Taylor, Kaeno, and Indecent Noise.
This special 30 hour event will start on Saturday May 29 at 3:00 AM Eastern / 12:00 AM Pacific / 09:00 CET / 8:00 AM UK and continue into Sunday.
To see the full lineup and more details, please visit the following links:
Barry Connell Tribute - Full Lineup and Comments
Barry Connell Tribute - Official Press Release on TranceSound.net